Why you need a website in addition to a social media page such as Facebook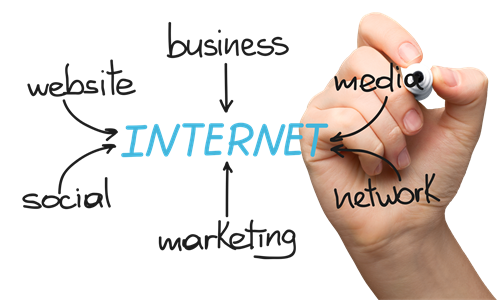 Are you, as a business owner, using only a Facebook page to promote your business? Some folks have been told, or believe, that a Facebook page or other social media is a free and sufficient method of reaching customers, existing and new.
While social media is a great venue for keeping in touch with your clientele, it can limit your business potential. Facebook (FB), for instance, can reach a large group of individuals once they know about your FB page. While word of mouth, giving out business cards, etc. and other print promotions with this information on it is great, you are missing the mark without a static website.
A web presence is a very important and viable necessity for any business that wants to have static information available, both for existing clients/customers and to reach new ones. The benefits of having a website go hand-in-hand with using your social media accounts.
1.) A website allows for you to present "your brand" – the look and feel to show the professionalism of your business or organization, just the way you want it.
Social media has limits to how it looks or "feels". Most accounts allow you to have your name and your logo, which offers only a snapshot about you.
2.) With a website, you can choose to either post to or pull in from your social media accounts to a central location on it. With all your information located in one place, search engines will increase the status of your website because your social media points to it.
3.) A website offers an easy address on the internet. When you are handing out your business cards with your static website address on it, anyone can go to your site and easily find your social media accounts, rather than having to open up every social media application and trying to locate you or writing out the long names of each of the social media you are using.
Simplification for your consumer equates to more business for you!
4.) With a website, you own your domain name and have the control. It's like owning your own piece of internet "real estate" (be sure to renew it each year, or you can lose it!). You have the control of your website. With social media, you are "living" in their space, so to speak, and are subject to the terms and conditions of that media, as well as changes in algorithms.
As Conversion Strategies says: "A great example of this is when many business pages were recently hurt when Facebook updated its algorithm, decreasing the reach of business pages. There was nothing businesses could do except complain. At the end of the day they had to accept the new rules and move forward or move on.
"The same thing could happen on another social platform at any time. YouTube could start charging you to store videos on their servers. Twitter could decide to become a premium platform where businesses have to "pay to play". In either of these circumstances, if you don't pay, then you no longer get to communicate with your customers."
Having your own website will allow your search engine rankings to remain higher, once the proper optimization has been done.
5.) Time is money. When you have to spend time posting on a variety of social medias (or paying someone to do it for you), it can become costly. With a website, you can integrate your social media so that you only need to post once, and it will be picked up by the others. Wouldn't it be nice to post in one place and have it connect with your other social media accounts in a way that you control?
While most of the major social media applications – Facebook, Twitter, Instagram (which is owned by Facebook), Youtube, Google+ – offer connections between them, there are other social media connections that you may be missing out on; Pinterest, LinkedIn, Medium, Tumbler, Vimeo, etc. While you may not want to connect with all the social media applications out there; understanding that there are a lot of options and depending on your consumer base, your customers are more likely to use one type over another. Figuring out who your target market is and connecting with them in their preferred social media method is very important.
6.) Your website is the place for Testimonials and Reviews. Having a website allows you to have a place to keep all your testimonials and reviews on one page; making it easier for your potential clients to find. You can also add links or pull in reviews from other sites, such as Yelp, Yahoo, Bing and Google Plus.
7.) Your website offers easy-to-locate information. Every time you post to Facebook or any social media, what you posted is moved down on the page. In order to locate that information, you have to scroll for it. With a website, that information is easily located, due to the static nature of the site. Click on a navigation button, or in many cases, use the search bar included, and you have what you need.
You can have the best of both worlds when you add an area just for your Facebook information. This allows you to pull in the Facebook posts – which also gives fresh content to the search engines for your website.
8.) A website incorporates a "Call to Action". Social media isn't always effective when it comes to selling your products, running contests, keeping your statistics private or connecting you to your target market. Having a well designed site, which includes your social media connections, offers an exceptional value. You run your business your way. Why not allow for your online presence to reflect that?
Some final thoughts. Social media is important in today's economy. Yet, you need to be able to control the way your business is perceived. Your customers need to easily find you, and do business with you. The most effective way to accomplish this with a website reflecting who you are and the services or products you offer.
You can increase your business by including the website address on your print media, emails and newsletters as you make connections with different consumers. Use your social media as a "call to action" to move your customers to your site so they can see you as you really want to be represented, without the concern that at some point you may breach a change in the terms of service for one of the media conglomerates.
Our "Call to Action". If you don't already have a website, please consider our website design to develop a mobile-friendly website that can reach new customers/clients as well as offering easy-to-find information and access to your business to existing ones.
Does your current website need a redesign to bring it to current internet search engines standards, with a fresh look? Major search engines now require mobile-friendly websites as a ranking necessity. Since almost everyone now uses a mobile device (smart phone, tablet, etc.), your website should be easy to see on those devices. We can accomplish great results for you, so please let us know if we can help! (There's no charge or obligation for our reviewing your current website, and letting you know what can be done to improve it greatly.)